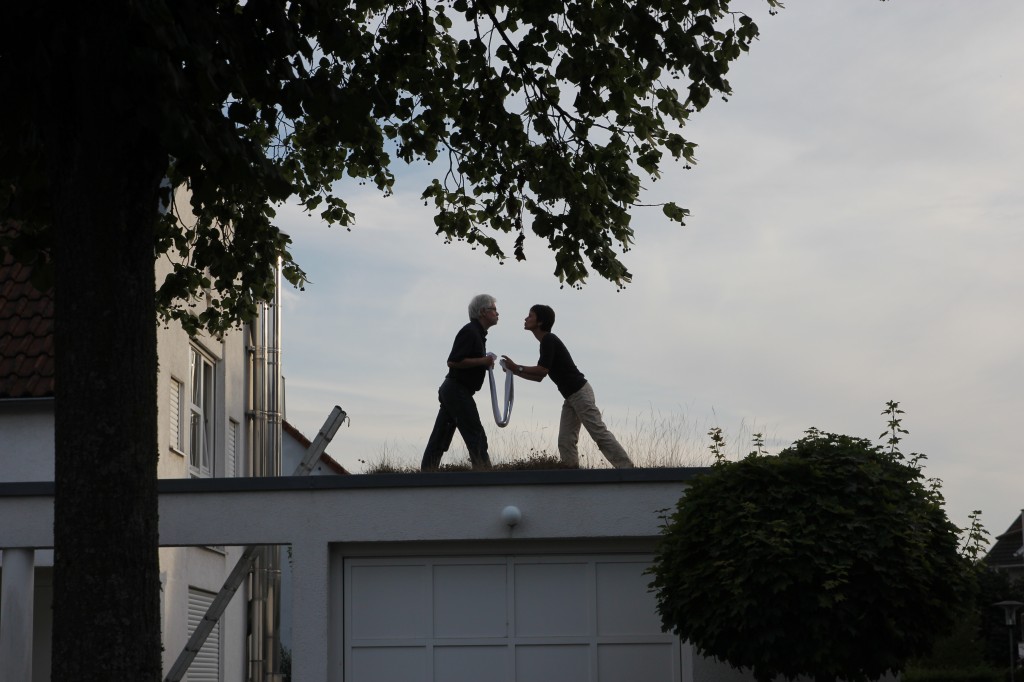 Weinstadt promotes itself as a romantic destination for tourists, with sloping vineyards and picturesque villages. The work of local sculptor Karl-Ulrich Nuss has become a brand name for the region's (projected) identity, featuring heavily in promotional material. Bronze sculptures are found throughout the area, with two sculpture trails in the artist's hometown of Strümpfelbach. In 2015 we were asked to develop a series of projects exploring this context.
Stillgestanden
A living sculpture trail in a suburban residential area at the periphery of Endersbach in Weinstadt. Posing on garage roofs, balconies, in gardens and between houses, local residents become temporary sculptures, while an audio guide relays extracts from discussions had with those taking part.
Stillgestanden provides an alternative to existing sculpture trails in Weinstadt that primarily feature the work of the local sculptor Karl Ulrich Nuss and his father Fritz Nuss; A trail of temporary moments representing a multitude of personalities, rather than a series of immoveable inert objects formed by a single individual. The residential area chosen for the project reflects the demographic changes and urbanisation in Weinstadt over the past 40 years, contrasting with the romanticised representation of the area in tourism brochures and the expectations a tourist may have towards their visit.