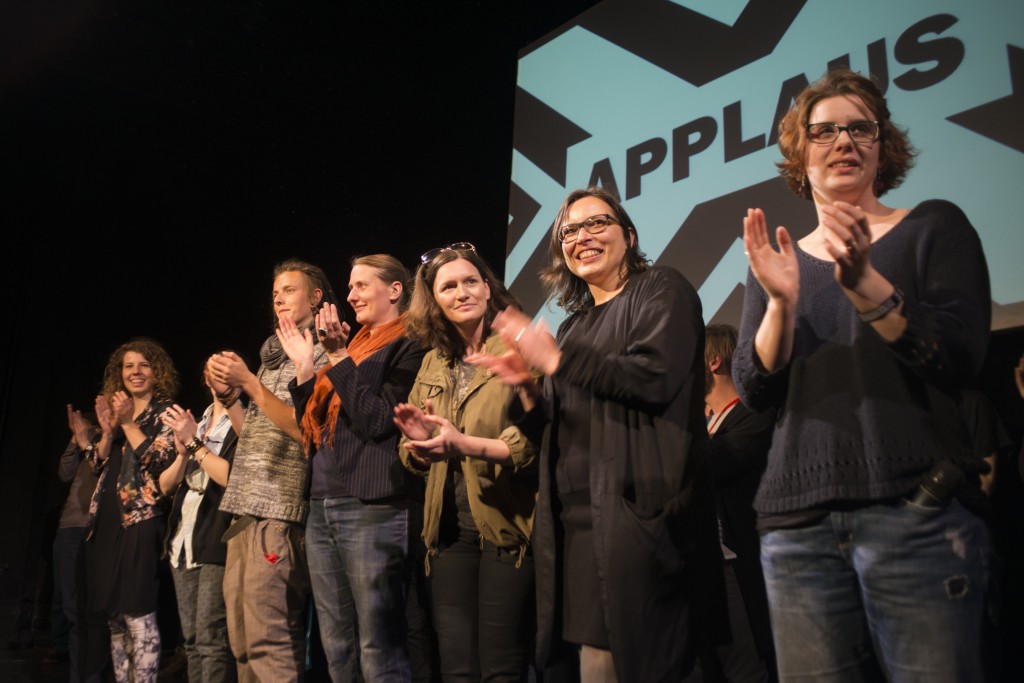 Foto: Luzie Marquardt
We clap to applaud the past, to signal our approval for completed achievements. At other times we clap to join the crowd, to conform to expectations and conventions. Applause has become the established way of concluding or responding to the completion of a performance or presentation. 'Take a bow for tomorrow' re-imagines the cultural ritual of the curtain call, to create a performance that is entirely composed of applause.'Take a bow for tomorrow' was first presented at the prize giving ceremony for 6 Tage Frei in Stuttgart.
An audience is divided into groups. Before the show is due to begin they are asked to rehearse short choreographed bowing routines. Routines and formations are increasingly complex (ridiculous), playing on situations commonly encountered in theatrical contexts (overlaps, pairs, flybys, crossovers, run-ups). Sub-groups are created within the choreography by categorising audience members, finding divisions within the entity of 'the audience' (male/female, trainers/no trainers, those who consider themselves in the first half of their lives/those who don't, etc). The audience are then invited onto the stage to take their bow. The audience that watches the audience is asked to applaud future achievements, rather than past achievements.
Applaud like you have never applauded before. Applaud everything that is possible – everything an individual might do. … Give yourselves the biggest ovation imaginable – perhaps in vain.
'Take a bow for tomorrow' is a simple exercise that recognises the boundless realms of possibility, on a stage that once promised the same.