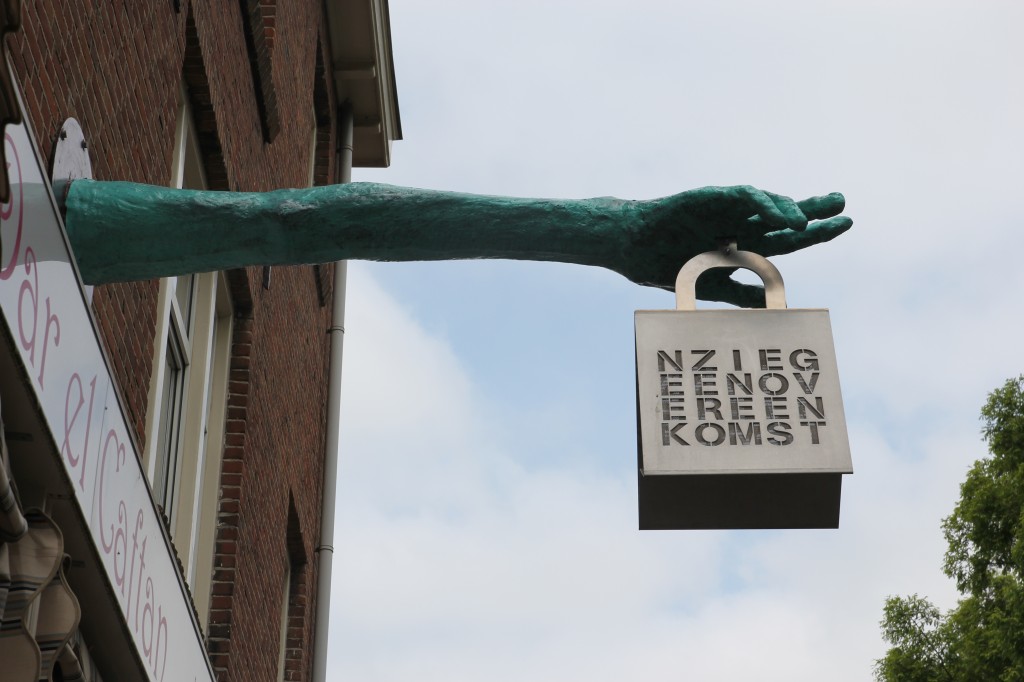 In the summer of 2012 we were invited by KijkRuimte to spend a three-week production residency responding to the process of regeneration taking place in Amsterdam Noord.
One of the first things we notice on our arrival in Amsterdam Noord were a series of green over-sized arms that had been installed above selected shops and businesses on Van Der Pekstraat. The way these arms were mounted reminded us of the big-game trophies that hunters hang on their walls. We asked ourselves who (or what) is now missing their arms and how did he/she/it lose them?
Following a period of research that involved holding interviews with shopkeepers, local residents, artists and government officials, we developed two projects that explored the narrative of this situation. Functional architectural features were exposed as political tools and transformed into catalysts for dialogue and reflection.
Intervention: The green arms


.
The 'green arms' have been installed to mark out new shops and businesses that have been introduced by local officials, as part of an economic growth strategy that proposes a radical shift in the demographics of the area. Pre-regeneration shops and business, some of which have served the community for many years, were not offered an arm.
We asked shopkeepers and businesses on Van Der Pekstraat that didn't have a 'green arm' if they would like one. Those that wanted one would get one. They would get their own arm. Casts were created and used to produce replica life-sized arms that were painted green and mounted onto the shop frontage. The resulting sculptural installation placed disturbingly life-size amputations, alongside the oversized arms created by the local council for the new signage.
Artistic research: The bags


.
We invited residents to write a short sentence onto a paper bag that summarised the way they felt about the process of regeneration taking place. This bag was then photographed, with the protagonists hiding behind a wall, window or doorway. The resulting images of outstretched arms protruding from buildings resembled the green-arm-signs that have been installed above the new businesses along the street. We presented these portraits in the gallery space as a growing archive of photographic documentation.
The texts that people had written on the paper bags were transferred onto the more durable shopping bags commonly used in the area and offered to shopkeepers on Van Der Pekstraat to give to their customers.