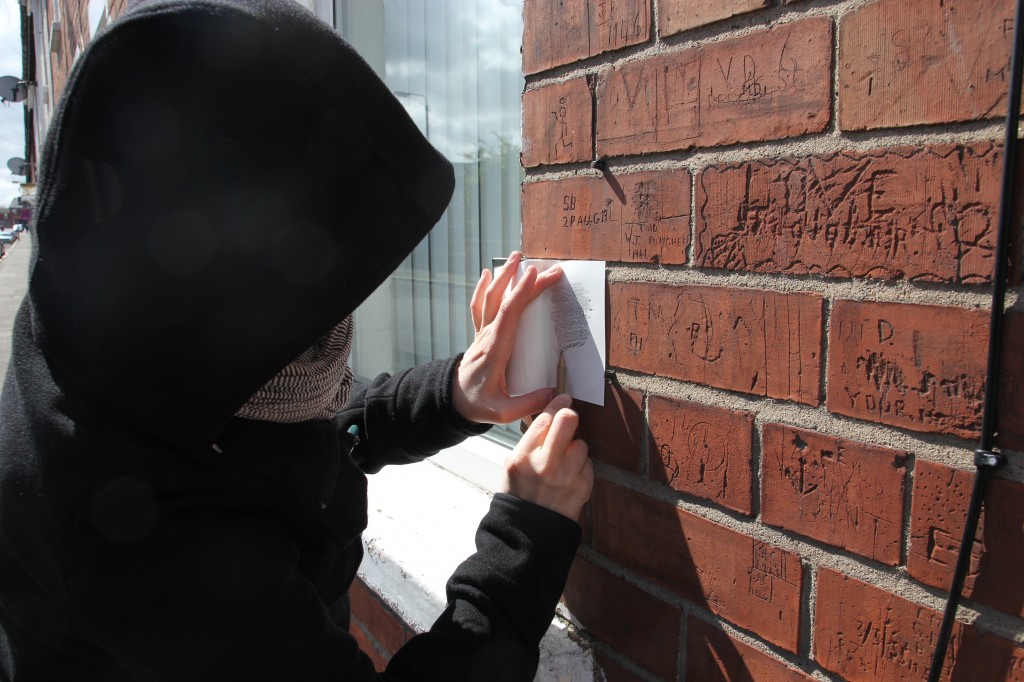 In March and April of 2012 we were invited by FLAX Studios to undertake a research residency in Belfast. During our stay we developed a series of projects that explored the role and potential of tourism in the city through the way in which people relate to a variety of wall markings; Valued markings, unwanted markings and unnoticed markings. In doing so we created a series of DIY city-tours, that in turn resulted in a collection of holiday snaps, souvenirs, questions and encounters.
Rubbing Time
If you look closely at some of the older redbrick walls in Belfast you will find a collection of miniature markings that have been carefully scratched into the surface; dockyards, boats, RAF planes, flags, guns, faces, trees, skipping girls.
We started collecting rubbings from these scratchings, a juxtaposition of political, personal and utopian texts and images. These are probably the oldest unofficial wall markings in the city, a form of graffiti dating back to the 1920s and 1930s. From the different heights you can assume the age of the individual scratching into the walls.
In a city currently preoccupied with Titanic-superlatives and the spectacle of "post-conflict" tourism, this was about being sensitive to the small overlooked details, the texture of the architecture, and the history written by the every-day worker coming back from the docks, or the child playing in the street. Who made these markings, and why?
We now plan on conducting additional research into the socio-historical significance of these sites, and are currently in discussions with Place and the Belfast Tourism Board to develop a macro tour, a small guidebook and a DIY rubbing set. This process would be accompanied with a small publication, placing the rubbings alongside a series of interviews held with local residents who remember the practice of scratching; a valuable archive of one of the hidden histories of Belfast.