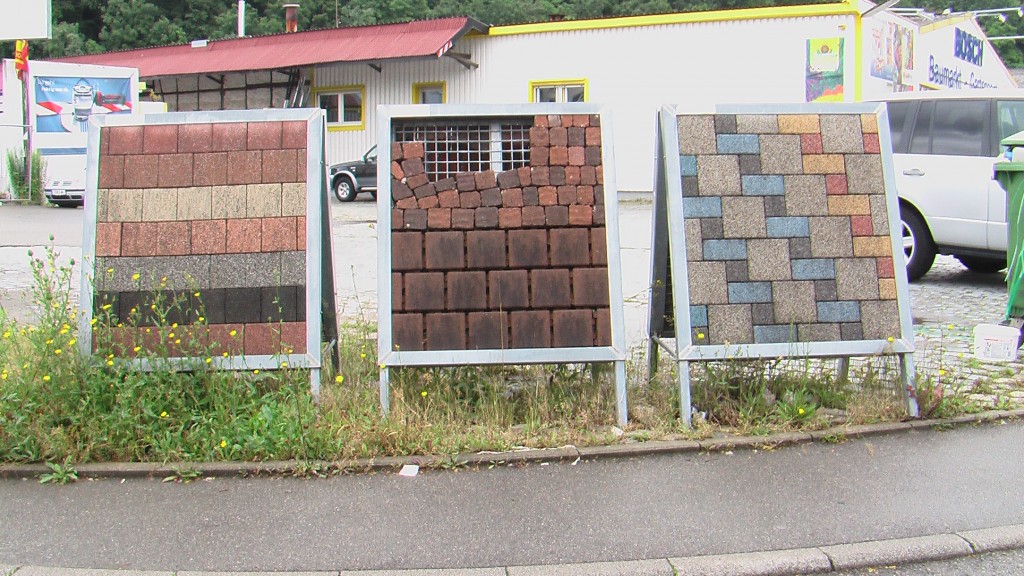 We gave the following list of possibilities to the artist Kinga Araya, before she set out on foot to circumnavigate the Berlin Wall. Many of them are very specific to Kinga's personal narrative/context, while others could be developed or enacted as simple instructions for a drift or walk. Some suggestions take place between two walkers in different geographical locations, as for some of Kinga's journey I would be walking simultaneously in Stuttgart, exchanging notes at the end of the day.
Instructions for walking the wall
1. One wall related memory from my childhood is the impossible task of building dams on the beach as the tide comes up. If you get a wet day on your travels try to build a dam blocking the flow of water that streams over the pavements and down the alleyways. Use whatever you have to hand. Mud, wood, a smelly sock, sugar…
2. Tell jokes and collect jokes. Do people share your sense of humour? A joke gone wrong is an awkward situation. A displacement. A shared sense of humour goes a long way to feeling at home. It took me a while in Germany to adjust and I still like going back to the UK for a good laugh. I'm not sure I have ever laughed until it hurt outside the UK.
3. Take your visa forms and shout out these questions at a place with an echo.
4. Find scents and leave your own. Rub your scent along the line of the former Berlin wall, or up against any remaining posts, or on top of any scents that you find. Document the smells and mechanisms used by other 'dogs' to mark out their territory.
5. Meet somebody. Hold their gaze and walk backwards for as long as possible, when you are no longer able to look into one another's eyes turn around and continue your journey, without looking back.
6. Perform that mime artist thing with the white gloves along the absent wall.
7. Undertake a tidy-up walk or a mess-it-up walk. Parallel walkers could complement or contrast with one another, or maybe we can tidy it up in the morning and mess it up in the afternoon.
One of my favourite walls is the long one holding in the garden and leading down the hill from my childhood home in Jersey. Twice a year this wall had to be tended to in a local custom known as the 'bronchage'. Any overhanging branches or rowdy weeds would need to be cut back to avoid getting a fine. A procession of local politicians would then inspect the country lanes and pass judgement.

8. Ask everybody you meet on a given day if they know anybody living in Stuttgart (or even if they know of a special place). If they do then give me a call and I will rush off to find these people/places, possibly taking a message or performing an activity when I arrive there.
9. A question to think of throughout your walk (a potential mind-drift): Do you feel like a guest or a host during your walk, both towards your companions and in space/place? If you are a guest how are you being treated and what has been prepared? If you are the host, how do you expect your guests to behave and how do you invite them in to your space?
Repeated activities
1. Every morning it is your move, every evening it is my move. For the duration of your walk we play a game of chess. This may or may not reach a conclusion in the three weeks you are traveling.
2. Collect another stone each day from your walk and take this with you, until you are walking with ten stones. This reminds me of an artist who took part in the Sculpture 07 exhibition in Münster. Every day a collection of stones was delivered to a given location with instructions to the drivers on how and where to place these stones. I think the placement of the stones was either related to the Berlin Wall or the Gaza Strip.
3. Build something throughout the ten days, one piece each day. Or make a Jenga tower and build one layer before you leave each day. Perhaps this can be linked to the idea of rubble – both with 'Montescherbelino' in Stuttgart and the Berlin Wall.
4. 'It's better not to be with the one you love'. No doubt this is the same everywhere, but I first encountered this bit of political mis-policy after signing on for the first time in Germany. You realise that (unless you are married) you can end up at a financial disadvantage living with your partner. Maybe you should say goodbye to each of your companions with this sentence (vocally or written). Maybe the suggested sentence in your context is too loaded, but I would still like you to say goodbye to each of your companions with a repeated act or sentence.
5. Give all of your taxi drivers, tram drivers and bus drivers a token.
6. Take a photo of your socks at the end of each day.