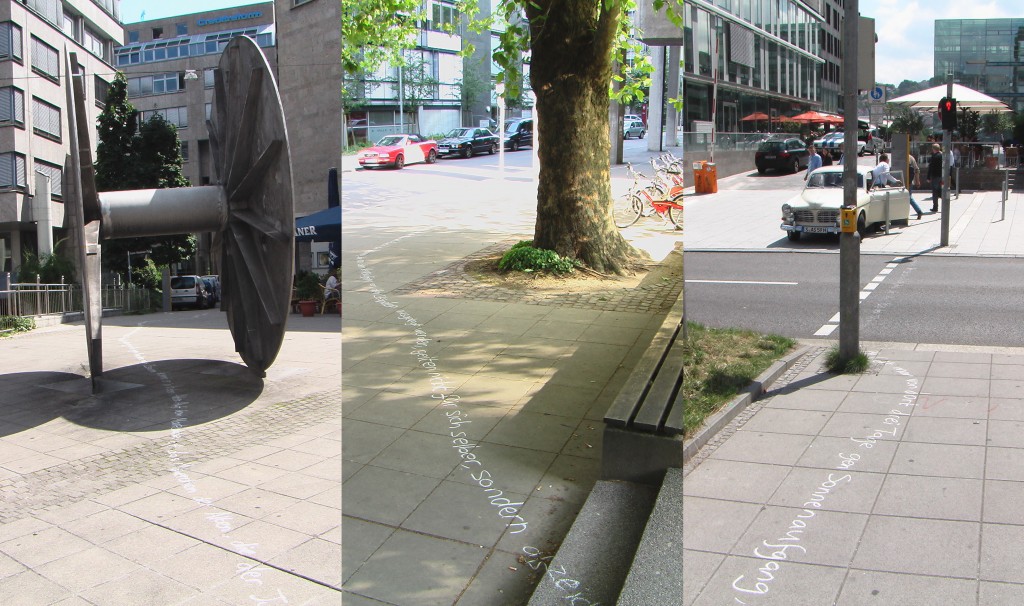 1 book, 5 kilos of chalk in my backpack and a camera, 9 and 1/2 hours of writing, 7 cities, 8 chapters, 21 pages, 1 pizza, 1 ginger beer, 20 Euros stuffed in my pocket, 1 heart cut from a dress, 2 beautiful portraits, 39 types of concrete, 147 pieces of chalk worn down, between 1km and 2 km of text, at least 40 conversations with well wishers, mockers, readers, wanderers, watchers and 4 young illustrators in the park. Returning with 3.15 kilos of chalk, 170 pages and 2 numb feet.
I bought 'Invisible Cities' by Italo Calvinho and set off from just outside the bookshop. I wanted to write these short stories into the city, and made it as far as the 8th chapter. Somebody working for the local council told me that my actions were legal, as long as the city officially recognised them as art!
'Talking a story for a walk' was enacted in parallel with Kinga Araya, who was simultaneously walking the wall in Berlin.