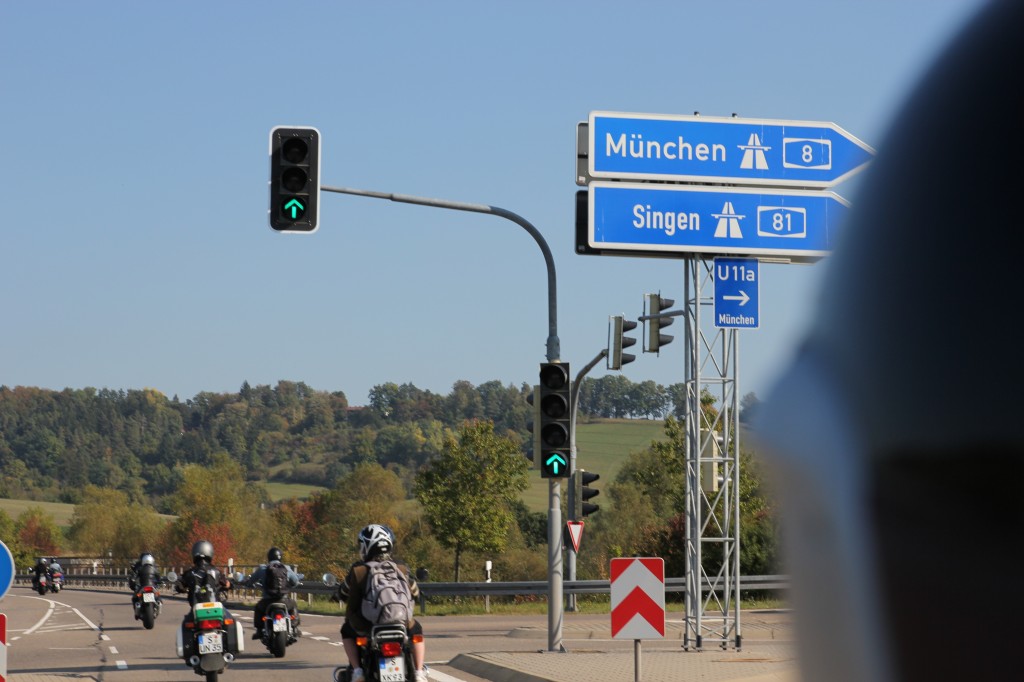 "Don't ask me about my job. I live a kind of double life. By day I walk around in my Armani suit and Gucci, in the evening and at weekends I'm a rocker"
(Trans.) (Biker from Stuttgart)
Between the 30th of September and the 3rd of October the Staatstheater Stuttgart hosted 'Recht auf Freiheit' (the right to freedom), a long weekend of events exploring the definition, spaces and limitations of freedom within society. We were asked to conceive one of four expeditions that would take place on Sunday the 2nd of October, simple activities that might resonate with some of the other events taking place.
Riding a classic motorbike and living the biker life is often, in some real or fictitious way, associated with the feeling or notion of freedom. Around the corner from the Staatstheater is a short stretch of road that is known as the 'motorbike-mile', a cluster of motorbike shops and a meeting place for local enthusiasts. On Sunday most of these bikers are on the road. It seemed fitting that we invite our neighbours to take part in the event.
Following a period of research we organised an expedition in which 12 bikers, predominantly Harley Davidson owners, took our audience on a road-trip out of Stuttgart and through the countryside and towns surrounding the city. This was followed by a discussion with audience members from each of the other expeditions, reflecting on and contextualising our respective experiences.
Born to be free or 'alles easy, I'm a biker'
A field-study
'All he wanted was to be free' is one of the refrains from the cult film Easy-Rider, accompanying Wyatt and Billy on a road-trip through the American outback, on a search for freedom that they would pay for with their own lives. The living and striving for the other, freer and wilder life, meets with uncertainty and rejection from the rest of society.
Born to be free is a field trip that offers an opportunity to reflect on the myth/concept of freedom within the biker-scene past and present. What does it mean to drive along a country road or through the city in 2011, with a hot motor roaring under your rear? Is this activity, something that could be described as pure lifestyle, still a lust for life and a form of protest against bourgeois conservatism and intolerance? Do the streets and hills around Stuttgart offer a feeling of freedom, in whatever form – far away from the US of A.
(programme notes)
We would like to thank all of the motorcyclists who helped us realise this excursion, in particular the Motorradfreunde  Wannweil, Rulaman, Mc o.T. (Motorradclub ohne Titel), The Other Place, the Harley-Davidson Club Stuttgart, the Harley-Davidson Club Deutschland and Lutz Schelhorn of the Hells Angels Stuttgart. In addition we would like to thank Louis and Peter's Fahrschule for providing us with helmets for the event.