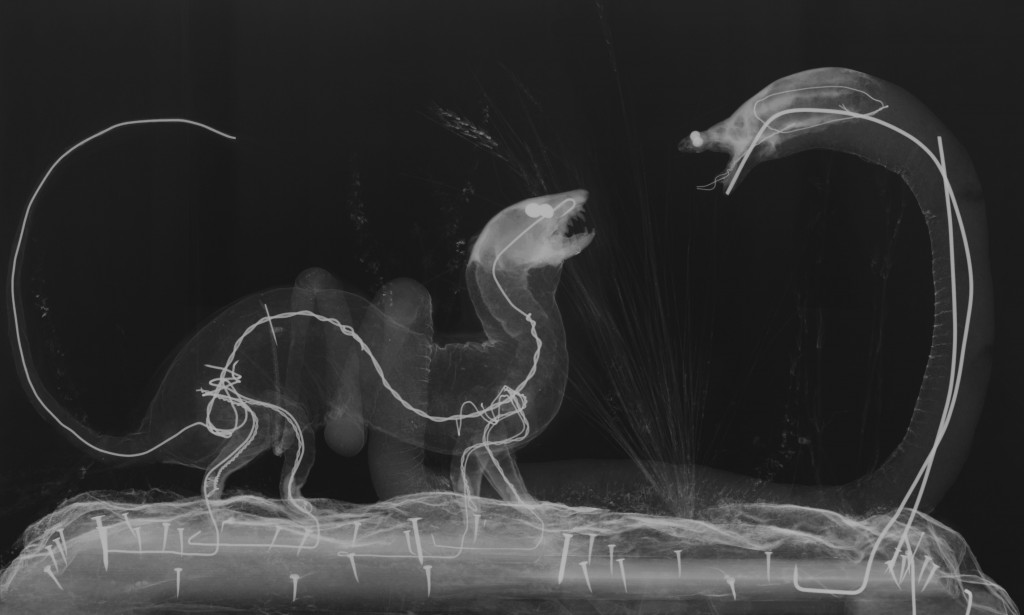 Between August 2010 and April 2011 we were invited by Creativity Works and the Rossendale Museum to join the 'New light on old bones' collaborative research team, looking at how the perception and presentation of natural history collections as social history is a legitimate and potentially rewarding curatorial approach. We were asked to explore ways in which this research might lead to new creative strategies for museum interpretation and visitor interaction.
NLOB X-rays
Following a period of time exploring the existing NLOB research and engaging with both visitors at the Rossendale Museum and members of the local community, we decided to take a collection of animals from the Rossendale Museum and give them an X-Ray (a slightly surreal process given that the animal is already dead). The result is a series of beautiful images that touch on the afterlives and mortality of the animals on display, while revealing taxidermy practices and the human intervention required to construct each exhibit. New light on old bones taken quite literally (although most of the bones are missing)!
Each image offers something that nobody visiting or working at the museum has seen before, generating local interest and adding a layer of interpretation that encourages the viewer to see the displays of taxidermy from a new perspective. They remove the mystification or illusion of life, and in some cases drama, that were often aspired to by the taxidermist or collector, reminding us that we are looking at man-made artifacts using parts of dead animals, rather than true-to-life biological representations. We hope that they can help present the question of 'why' people created or collected taxidermy, and why they still do, more tangibly in the space. What does the taxidermy on display reveal about human nature, social history and cultural conditions?
A selection of these images have been physically incorporated into the taxidermy room at the museum, while the remainder are offered to visitors in the form of an exhibition catalogue and presented as an online gallery. They will also be available for workshops, and included in educational packs.
Many thanks goes to Pat Morris, a leading authority on taxidermy and author of 'The history of taxidermy, art, science and bad taste', and to the Henry Moseley Manchester X-Ray Imaging Facility for making this project possible. We are hoping to conduct a similar experiment next year looking at some of the larger specimens with the help of Rapiscan, a company specialising in scanning equipment that is primarily used for immigration control. The scan would appear as a kind of Noah's truck, a potentially provocative image within both historical and contemporary contexts.